Wurlitzer 200 Electric piano
Classic electric piano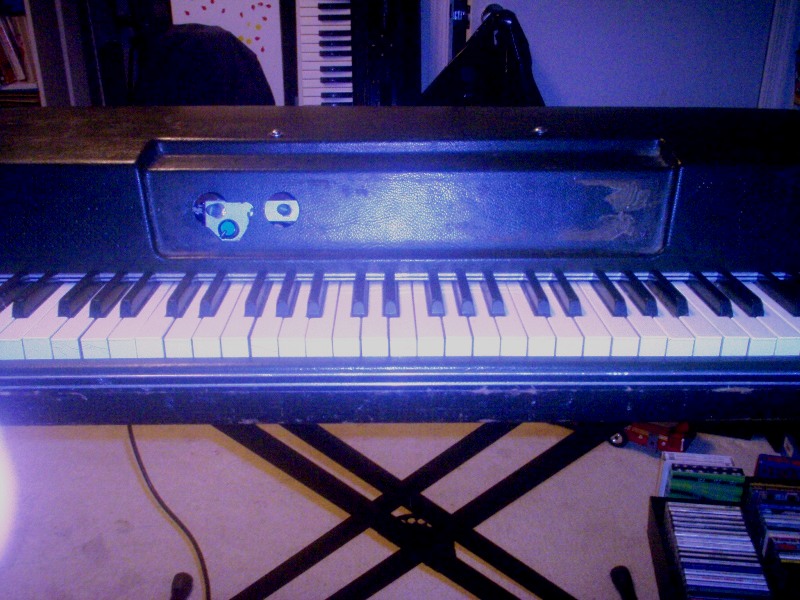 Wurlitzer EP200 video demo
Here's a video demo of my Wurlitzer EP200:
Wurlitzer EP200 video demo.rm (you will need the free Real Audio player to play it).
As you can hear, the 200 has that classic sound, used by so many bands (Ray Charles and Supertramp for example). The funk factor of this instrument is +1000, and while the sound is more aggressive, and faster-decaying than the Rhodes, is a legend of its own.
Wurlitzer EP200
pictures
(click on thumbnails to enlarge them)
Resources:
Review in "Keyboard magazine" Janfebmarch 198___
Features
Although on the heavy side, it's compact and portable;
mythical, expressive sound
vintage retro
Features at a glance
Year of release:
19__
Polyphony:
full
Sound generation method:
electro-mechanical
Preset memories
n/a
MIDI:
n/a
Sound expansion capabilities:
n/a
Sequencer
n/a
Arpeggiator
n/a
Effects
no
Touch sensitivity
yes
Aftertouch
n/a
Links
| | | |
| --- | --- | --- |
| SITE | Type of resource | DESCRIPTION |
| | Home page | website. |
| | | |
| | | |