Stereo Jazz Piano (ZA)
Expansion card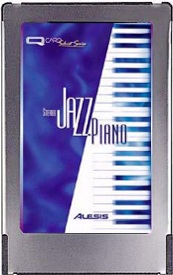 This card is part of Alesis' "Soloist Series" expansion cards.
It provides a selection of great-sounding pianos - primarily for jazz, but we find also patches suitable for classical, variety, lounge, ballroom etc.
The quality and crispiness of the sampled material is very high. The pianos are definitely modern sounding - the sound is more to the like of 1980s/90s say - Keith Jarrett or Michel Petrucciani tone - than - say, Oscar Peterson or Erroll Garner in the 1960s.
One interesting thing on this set, is that Alesis provides 64 patches tuned with the "Stretch Tuning" technique, and the other 64 tuned using the standard tuning. For the examples below, I've used the "Stretch Tuning" set.
Check out the way it sounds here below.
Alesis Stereo Jazz Piano Q Card audio demos
Factory Demos:
00 Inyo Moon by David Garfield . . . A lovely, intimate jazz ballad, modern
01 M.A.L. by Boris Wiedenfeld . . . Another great-sounding jazz number, more in the classic, 1960s era style
Individual Listening:
Alesis Stereo Jazz Piano Q Card pictures (click on thumbnails to enlarge)
Alesis Stereo Jazz Piano Q Card manual - click icons to enlarge.
| | | |
| --- | --- | --- |
| SITE | Type of resource | DESCRIPTION |
| | | |
Alesis Stereo Jazz Piano Q card review with audio demo - November 9, 2008