Dance Factory
Sample CDs + application in Acid style, including virtual instruments (4 CD-ROM set)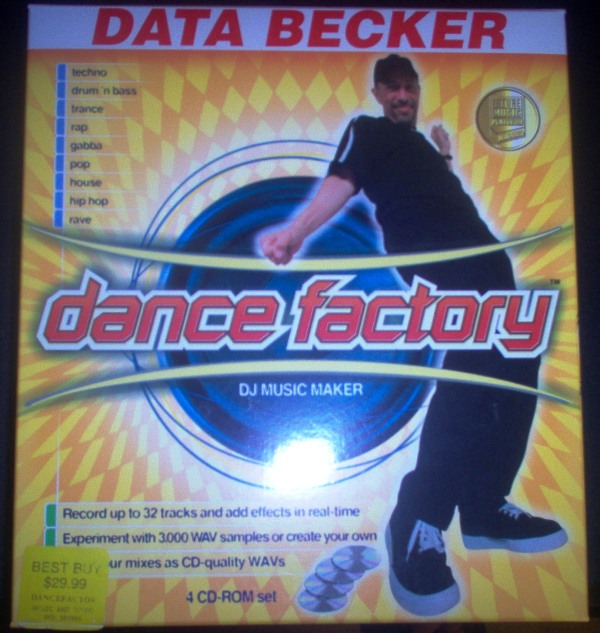 Magix Dance Factory features
(From the factory notes:)
Be your own DJ mix master and create amazing sounding dance mixes.
Dance Factory lets you be the DJ. Start jamming today and create awesome hit mixes and DJ loops. Record up to 32 tracks and experiment with the massive selection of sound samples included. And if you can't find that perfect sample you're looking for, create your own original WAV files for the funkiest sounds. You have total control so let your imagination go wild!
Pick your favorite dance style from techno, drum 'n bass, trance, rap, gabba, pop, house, hip hop or rave. Create in all tempos ranging from 70 to 240 BPM. Drag-and drop samples, mix in a drum pattern, and then crank the volume. For the very best sound, modify reverb and flanger effects and add in your very own vocals using the Vocalizer. You'll definitely blow your friends away!
So get your party started today with Dance Factory! Create dance mixes in minutes and save them as CD-quality WAVs. Listen to your recordings on your computer or burn them right to CD (using your CD recording software and CD recorder). Best of all, you won't need hours of music lessons. Perfect for the music and dance lover in all of us.
Making dance jams has never been so easy!
(The package contains a few virtual instruments:)
BDM 2 Create bass and drum patterns.
Vocalizer Record your own vocals and add reverb, phaser and pitch effects.
DB 303 Synthesizer to create your own acid house loops with amazing effects.
Live Jam Choose your samples and jam in real time as you mix your track.
Melody Maker Produce new melodies with just a few mouse clicks.
Record up to 32 tracks
Create your own WAV files
3,000 WAV samples included
Mix Arranger for easy song creations
Over 30 completed songs included
Save mixes as CD-quality WAV's
Add effect for enhanced CD quality
Sample Library for easy selection of samples
Import WAV files from other programs
System Requirements:
Pentium 166 MMX - Windows 95/98 with 32 MB of RAM
800x600 high color graphics - 120 MB hard disk space
4 X CD-ROM drive - 16 bit sound card
Magix Dance Factory audio examples in mp3:
Check out these two on-board audio demos:
Magix Dance Factory - comments
It received a Future Music Platinum Award.
Covers:
techno

drum 'n bass

trance

rap

gabba

pop

house

hip hop

rave
Magix Dance Factory Pictures (click on thumbnail to enlarge)