DJX (Portatone PSR-D1)
Portable sampling/arranger keyboard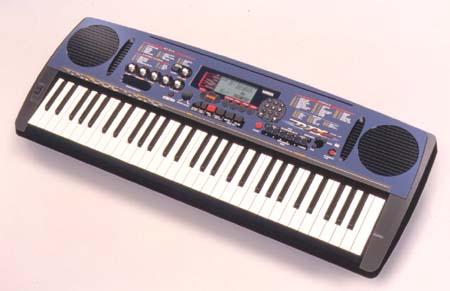 Yamaha DJX audio demos in .mp3
FACTORY DEMOS:
001 P_TRANCE (I assume the "P" stands for "Psy")
Stream all style examples below:
VOICES:
Stream all voice examples below:
The GM sounds are pretty much the same as all the other GM sets in the world, so I'm not recording examples of this bank.
Initialize the Yamaha DJX
Data Initialization
All data can be initialized and restored to the factory preset condition by turning on the
power while holding the highest (rightmost) white key on the keyboard. "CLr Backup" will
appear briefly on the display.
Yamaha DJX
pictures
(click on thumbnails to enlarge them)
PDF Manual from the Yamaha site: DJX manual.pdf
Resources:
Review in "Keyboard magazine" Janfebmarch 198___
Features
Light and portable;
Knobs, ribbon-controller;
Good sounds and accompaniments;
Sampler, arpeggiator
Features at a glance
Year of release:
Polyphony:
32-voice
Sound generation method:
sampled
Preset memories
284
MIDI:
In, Out
Sound expansion capabilities:
No
Sequencer
Yes
Arpeggiator
Yes
Effects
Yes
Touch sensitivity
Yes
Aftertouch
No
Links
| | | |
| --- | --- | --- |
| SITE | Type of resource | DESCRIPTION |
| | Home page | website. |
| | | |
| | | |