DR-770 Dr. Rhythm
Drum Machine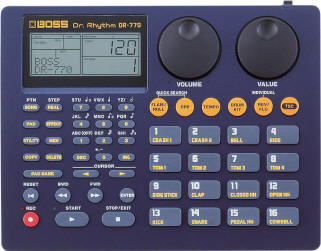 image source: bosscorp.co.jp
The DR-770 is a direct descendent of the longstanding and popular Boss' DR "Dr. Rhythm" line of drum machines that dates back to the minuscule DR-55.
The successor to the DR-660, the 770 improves on several aspects, including number and quality of samples, memory, and most of all, it features DPP, useful and lots of fun, especially in a live, jam or rehearsal situation.
The sample ROM is very generous, with many sounds to choose from, including vintage, jazz, hard, electronic, and ethnic samples - most people are not going to miss the expansion capability of other drum machines, such as - say - Roland (of which Boss is part of) 's classic R-8.
The 770 is an extremely compact instrument, with the buttons spaced pretty tight next to each other. Two alpha dials serve duty for volume and value changes. The inclusion of ambience and modulation effects is a big plus, especially for genres like reggae (the kits have great echo/delay effects on the right instruments) and electronica that can always benefit from them - as opposed to more classic styles like rock, that pretty much are okay with just a pinch of reverb.
In all, this blue wonder is a great tool for composing, and certainly great-sounding, and thanks to its large sample ROM, can be used in any recording or live situation that requires being able to provide percussion in several different styles.

Boss DR-770 audio demos in .mp3:
Here is the DR-770 on-board factory song:
and following are examples of the preset patterns:
| | |
| --- | --- |
| Patterns with audio sample | My comments |
| Hard Rock patterns | Note the excellent quality of the bass drums and snares. |
| Rock patterns | The 770's fine ppq resolution allows "impossibly fast" rolls - excellent. |
| Ballad, Rockabilly, Bluegrass, Country patterns | Besides great, powerful and grungy sounds, the 770 features also excellent clean drum samples. |
| Funk, Blues, Soul, Gospel, Jazz, Brush, Big Band, Jazz Waltz, 5-4 Jazz patterns | Sounds very realistic to me! You can send the drummer home, now ;-) |
| Hip Hop patterns | Excellent for urban rhythms as well. |
| Drum 'n' Bass patterns | Great starting points for further adventures in "tweaking".. |
| Techno, House, Boom, Disco patterns | Outstanding sounds and programming... well, everybody knows that Roland (Boss) is the mother of Techno, with its now-standard TR-808 and TR-909 classic drum machines. |
| Bossanova, Samba, Salsa, Mambo, Merengue, Latin Pop, Reggae, Songo, Polka, India, Afro patterns | Let's head for a trip around the world! |
| 8-Beat, 16-Beat, Shuffle, 6-8 Feel patterns | Good rock sounds |
| Fuse, Groove in 6, Smooth Jazz, Heavy Funk, Tech Fusion patterns | More jazzy |
Boss DR-770 Drum Samples (44.1MHz, stereo, .wav files)
Boss DR-770 Features
light and portable;
deep editing and programming;
high quality sounds;
Direct Pattern Play is an awesome feature;
On-board FX.
Features at a glance
Year of release:
200_
Polyphony:
14-voice
Display:
yes, LCD non backlit
Preset Patterns:
400 Preset + 400 User
Pads:
yes, 16
Pads respond to velocity:
yes
Pads respond to aftertouch
Sound generation method:
PCM
MIDI:
in, out
Sound expansion capabilities:
no
Outputs:
One pair stereo out, one individual, phones
Effects:
yes
Controls:
2 jog-wheels; buttons; drum pads
Pedal controls:
Pedal switch
Tape Sync:
n/a
Dimensions:
Weight:
Boss DR-770 pictures (click on thumbnails to enlarge)
Boss DR-770 Manual
Available at www.roland.com
| | | |
| --- | --- | --- |
| SITE | Type of resource | DESCRIPTION |
| | | |