L-CDX-03 Brass & Woodwinds
Sample CD-ROM library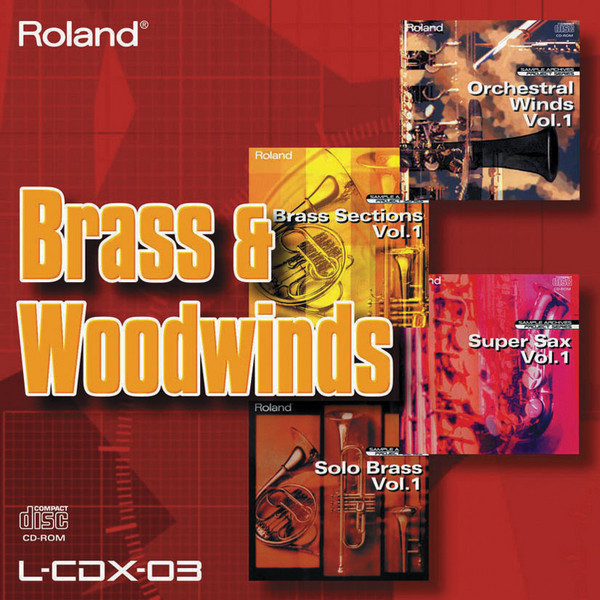 The L-CDX-03 library combines the "Orchestral Winds Vol. 1", "Super Sax Vol.1", "Brass Sections Vol.1" and "Solo Brass Vol.1" Roland CD-ROMs for their S-series samplers. Here's what a note in the CD says: "The tones on this CD-ROM use Patches and Performances from Roland's Project Series L-CDP-04 "Orchestral Winds Vol.1", L-CDP-07 "Super Sax Vol.1", L-CDP-06 "Brass Sections Vol.1", and L-CDP-012 "Solo Brass Vol.1"."

This CD set is a must to create the brassy backbone of your compositions, and it works particularly well for soundtrack/cinematic music. The quality of the samples is incredible, and there are so many different individual samples per patch, that many of the instruments in this collection really sound like the real thing. Adding alternate controllers - especially a breath controller, but any other will do - will also increase the expressivity of the playing.


In order to use these CD-ROMs you will need a SCSI CD-ROM drive connected to your S-series sampler or XV-5080. Keep in mind that certain sound data will need 32MB of memory, supported only by the S-760. The S-770 and 750 have less.
Roland L-CDX-03 audio demos
Stream all audio examples below

Roland L-CDX-03 specifications
| | |
| --- | --- |
| Year of release: | |
| Polyphony: | |
| Sound generation method: | |
| Preset memories | |
| MIDI: | |
| Sound expansion capabilities: | |
| Sequencer | |
| Arpeggiator | |
| Effects | |
Roland L-CDX-03 pictures (click on thumbnails to enlarge)
Roland L-CDX-03 manuals
available at www.rolandus.com
Links
| | | |
| --- | --- | --- |
| SITE | Type of resource | DESCRIPTION |
| | | |
| | | |
Roland L-CDX-03 review with audio demo