Roland MC-303
the original GrooveBox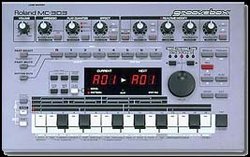 The Roland MC-303 is the original GrooveBox. It came out in 1996, when Trance was at its apex, and - as you can tell from several of its factory preset patterns - Goa Trance is particularly well represented.

The term "Groove Box" was created by Roland, and then several other manufacturers started producing their own versions of grooveboxes, from Yamaha's AN/DX200, to Korg's very popular Electribe series.

A Groovebox is basically a portable unit that features sounds in ROM, a sequencer, the ability to program patterns from the unit itself, knobs/sliders and other controls, arpeggiator, and other functions. It's particularly useful for live performances.

A very good addition on the MC-303 is the inclusion of the "RPS" (Realtime Phrase Sequence) - you can play back phrases from the onboard buttons. Arpeggiator and sequencer are also very complete and effective.


The vintage-style knobs offer an array of controls: volume, arpeggio rate, quantize, effect, LFO, envelope control, and the must-have cutoff and resonance. There also are eight switch-buttons that allow you to mute in or out parts in the song/pattern. This is invaluable for live use, where simply by acting on the mute patterns, you can produce engaging build ups and generally spice up tracks, by mixing elements in and out.

The MC-303 also works via MIDI as a standard PCM sound module (similar sounds as on the Roland JV-series, but tailored for dance/electronica.
Roland MC-303 audio demos
Factory Demo Songs:
Here is the Factory Demo Song sequence. It's pretty long at 12:00 minutes, but represents well what you can do with this machine.
Individual examples:
Stream all the patch examples below as an .m3u playlist
The Roland MC-303 as a sound module
The MC-303 can obviously also be used as a sound module via MIDI. Its sounds are typical Roland JV/XP ROM, but leaning toward the electronic side. Here is an example of the MC-303's internal sounds being played by a keyboard:
Roland MC-303 specifications
| | |
| --- | --- |
| Year of release: | 1996 |
| Polyphony: | 28-voice |
| Sound generation method: | PCM |
| Preset memories | |
| MIDI: | in, out |
| Sound expansion capabilities: | no |
| Sequencer | yes |
| Arpeggiator | yes |
| Effects | yes |
| Velocity | yes |
| Aftertouch | |
A few years after the MC-303, after the introduction of the MC-505, several artists used a groovebox for the "At Home With The Groovebox" compilation, that received good reviews and featured artists from totally different backgrounds - with in common only the fact they used solely a groovebox for their song.
Roland MC-303 pictures (click on thumbnails to enlarge)
Roland MC-303 manual
available at www.rolandus.com
Links
| | | |
| --- | --- | --- |
| SITE | Type of resource | DESCRIPTION |
| | | |
| | | |
Roland MC-303 review with audio demo