MSC-3S Drums 1
Sound Card Set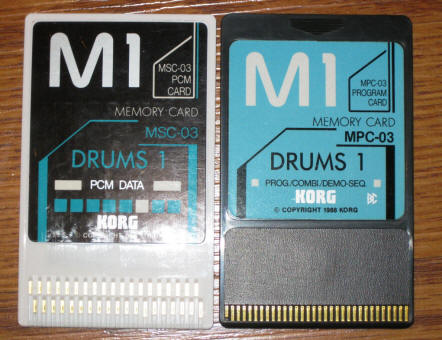 The MSC-3S "Drums 1" sound card set consists of the MPC-03 Program card, and the MSC-03 PCM card. These two cards install in the slots of the Korg M1 series, adding several new waveforms and programs to the machine.

The Drums 1 card features new drum & percussion sounds, but also adds numerous new Programs and Combinations of other types of sounds, like electric pianos, basses, pads, strings etc.

The drum sounds improve on the stock M1 drum samples.


Some of the best patches feature great-sounding, punchy acoustic, but also electronic drums.
Korg MSC-3S Drums 1 factory demo songs:
Korg MSC-3S Drums 1 audio demos in mp3:
| | |
| --- | --- |
| Program name with audio demo | My comments |
| 00 Ambient | Classic, punchy acoustic drums, with nice room ambience |
| 02 -->Push<-- | Beautiful soft pad. The aftertouch (the "Push" in the title of this patch) introduces gentle, shimmering overtones. |
| 05 ElectroKit | Punchy, "Simmons style" electronic drums, with nice short reverb |
| 06 ClickBass | Classic synth bass |
| 07 {=Xanos=} | Very typical AI synthesis type of sound |
| 10 Percussion | Solid drum kit and percussion |
| 12 Dark*Light | Beautiful synth pad, very late 1980s |
| 15 NastyDrumz | Yep |
| 16 P. Bass | Well-sampled Fender Precision bass - very full-sounding |
| 22 :Star Man: | Nice sci-fi effect, with the classic M1 "percussion roll" of lore |
| 23 Mythology | Nice 1980s style happy synth |
| 24 GR8 Clav' | Cool Hohner Clavinet rendition |
| 25 FX-->RadKit | Glassy percussive sounds |
| 26 TechnoBass | Deep quick-rez bass |
| 27 ({-->MARS<--}) | Big sound effect, very M1 |
| 35 G.A.T.E.D. | Phil Collins would be proud |
| 37 *(Flying)* | Great rhythmic patch, that reminds of a sound on the Roland JV-XP line: Flying Waltz |
| 42 RainBell | Exquisite bell patch |
| 43 ProcesSAX | Realistic saxophone through quality internal reverb |
| 44 StabiClavi | Fat, analog stab Clavinet |
| 46 SuperSlap | Classic M1 slap bass |
| 47 WoodWater | Interesting New Age patch, with the cool internal delay fx |
| 48 WayOutLead | Analog'ish synth lead |
| 49 Rosin | Digital string ensemble |
Features at a glance
Year of release:
1989
Polyphony:
n/a
Presets:
50 Programs & 50 Combi
Rhythms:
no
Keyboard:
n/a
Responds to velocity:
n/a
Responds to aftertouch:
n/a
Sound generation method:
PCM
MIDI:
n/a
Sound expansion capabilities:
n/a
Effects:
n/a
Controls:
n/a
Outputs:
n/a
Display:
n/a
Misc:
n/a
Korg MSC-3S Drums 1 pictures
(click on thumbnails to enlarge)
Korg MSC-3S Drums 1 manual (click to enlarge)
Medium-size jpeg version:

Links
| | | |
| --- | --- | --- |
| SITE | Type of resource | DESCRIPTION |
| | | home page |
| | | |
Korg MSC-3S Drums 1 review with audio demo - April 19, 2009