MSC-6S Fretted Insts 1
Sound Card Set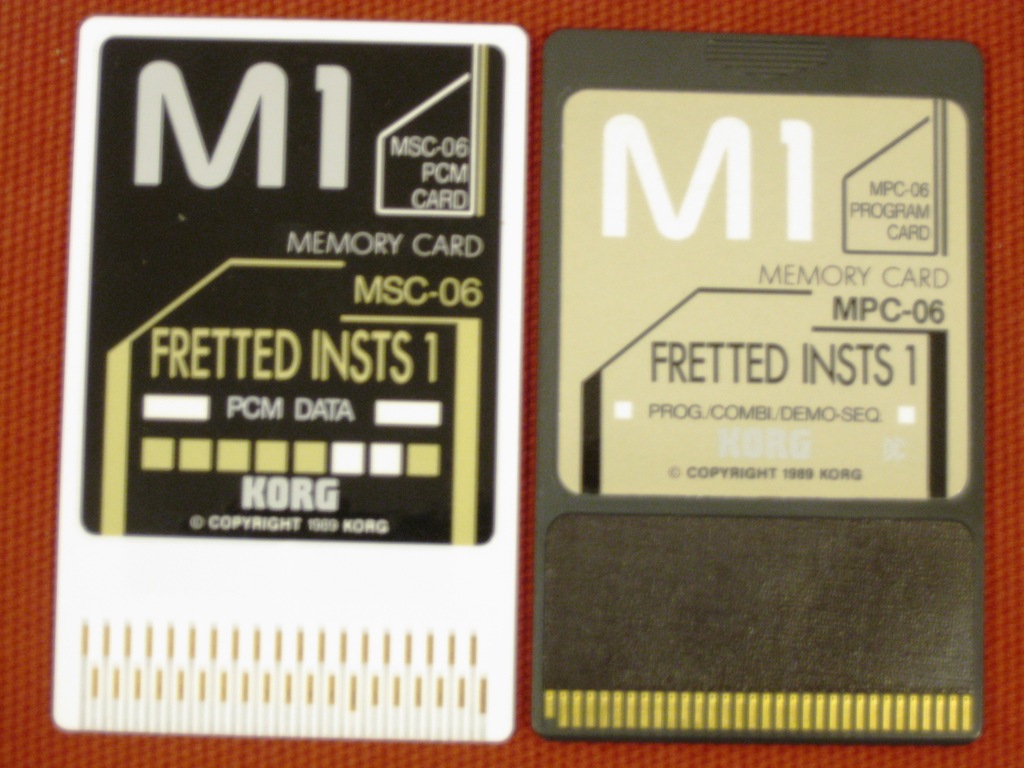 The MSC-6S "Fretted Instruments 1" sound card set consists of the MPC-06 Program card, and the MSC-06 PCM card. These two cards install in the slots of the Korg M1 series, adding several new waveforms and programs to the machine.

I find this card set to be very skillfully programmed.

The core of the new samples includes new guitar (electric and acoustic), bass, banjo, and even great-sounding middle-eastern stringed instruments.


Rounding the offer, there are many new programs that focus on non-stringed instruments, such as warm pads, organs, and strings.
Korg MSC-6S Fretted Insts 1 factory demo song:
LATINQUART by H. Maass
Korg MSC-6S Fretted Insts 1 audio demos in mp3:
| | |
| --- | --- |
| Combination name with audio demo | My comments |
| 01 SOUNDTRACK | B i g synth pad |
| 02 ASTRALIZER | Phenomenal, sidereal, gorgeous sci-fi syn pad |
| 03 JACO RIP | Beautiful split - Posh strings on the left, and very expressive Jaco Pastorius-style fretless jazz bass on the right |
| 17 MIDI-STACK | The power of multi-timbrality |
| 23 VIRTUOSO | Cute split |
| 25 SHOGUN | The mighty synth |
| 29 CASINO-SET | Awesome 1960s-style, lounge split - bass and horns |
| 30 SALOON-PNO | Cool, typical western-movie out of tune piano |
| 37 SCRAPSTACK | Echoes in the night sky |
| 39 FUSION-SET | Great-sounding Fusion setup, with slap bass on the left, electric piano in the middle, and synth brass on the right |
| 45 ARABIAN | Excellent combi with a middle-eastern flavor. I switched to the M1's from the "Equal Temperament" to "Pure Major" scale type for this audio example. |
| 49 BAROQUE | Classic chamber strings and harpsichord |
Features at a glance
Year of release:
1989
Polyphony:
n/a
Presets:
50 Programs & 50 Combi
Rhythms:
no
Keyboard:
n/a
Responds to velocity:
n/a
Responds to aftertouch:
n/a
Sound generation method:
PCM
MIDI:
n/a
Sound expansion capabilities:
n/a
Effects:
n/a
Controls:
n/a
Outputs:
n/a
Display:
n/a
Misc:
n/a
Korg MSC-6S Fretted Insts 1
photographs
(click on thumbnails to enlarge)
Korg MSC-6S Fretted Insts 1 manual
(click to enlarge)

Links
| | | |
| --- | --- | --- |
| SITE | Type of resource | DESCRIPTION |
| | | home page |
| | | |
Korg MSC-6S Fretted Insts 1 review with audio demo - April 25, 2009