Korg MSC-8S Percussion
Sound Card Set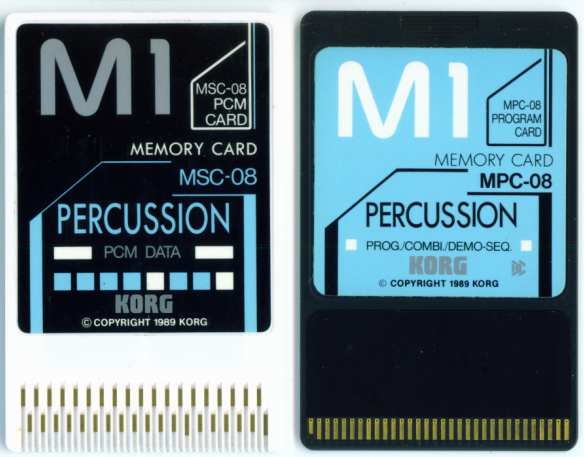 The MSC-8S "Percussion" sound card set consists of the MPC-08 Program card, and the MSC-08 PCM card. These two cards install in the slots of the Korg M1 series, adding several new waveforms and programs to the machine.

The MSC-8S Percussion card set focuses on percussive sounds of various nature, and adds 26 new waveforms ranging from anvil, finger cymbal, gun shots, vibraslap, guiro, shaker, claves and many more.


Many of the patches feature captivating sound programming, and in addition to "standard" patches, we find quite eccentric, unique creations as well.
Korg MSC-8S Percussion factory demo songs:
by Roland Oumard
Korg MSC-8S Percussion audio demos in mp3:
Stream all Program demos below
Stream all Combination demos below
Features at a glance
Year of release:
198_
Polyphony:
n/a
Presets:
50 Programs & 50 Combi
Rhythms:
no
Keyboard:
n/a
Responds to velocity:
n/a
Responds to aftertouch:
n/a
Sound generation method:
PCM
MIDI:
n/a
Sound expansion capabilities:
n/a
Effects:
n/a
Controls:
n/a
Outputs:
n/a
Display:
n/a
Misc:
n/a
Korg MSC-8S Percussion photos
(click on thumbnails to enlarge)
Korg MSC-8S Percussion manual (click to enlarge)

Links
| | | |
| --- | --- | --- |
| SITE | Type of resource | DESCRIPTION |
| | | home page |
| | | |
Korg MSC-8S Percussion review with audio demo - January 3, 2010