MT-500
Auto-accompaniment keyboard (electronic musical instrument)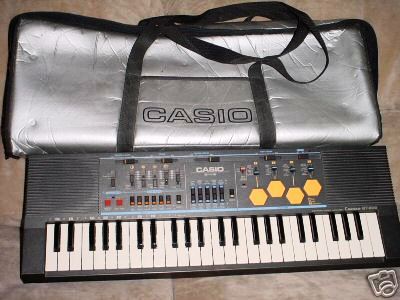 image: eBay #2570408450

The Casio Casiotone MT-500 is a classic late '80s Casio model. It features 12 rhythms (aka "super drums"), 20 tones, and 4 great rubber pads with interchangeable drum and percussion sounds, all in stereo :-)

The omnipresent Casio-Chord is available, and it's possible to vary the accompaniments thanks to five sliders that change the pattern of the bass drum/bass, the snare/rim shot/tom, the cymbal/high hat, the hand clap/agogo/bongo, and finally the chord structure.

Separate sliders are available to control and mix the volumes of the accompaniment and the rhythm, change the tempo, and adjust the main outputs.
The keyboard is standard Casio mini-keys, four octaves, and it's surprisingly easy to play even for large hands. It's not velocity-sensitive.
The rhythms and tones themselves are early PCM, and are typical Casio. Among the tones there are a few standouts, like the excellent pipe organ, and the synth. guitar, but if you like retro styles, you'll like this keyboard.
A difference between this and other Casio keyboards of the same era is that it's not possible to change the preset tones in any way... no envelope, vibrato... like it's possible to do on other Casio models.
The rhythms sound nice and punchy, and gloriously lo-fi. There's also a synchro-start/fill-in button, and a set of two outputs for external drum pads.
Check out the audio demos here below...
Casio MT-500 Casiotone audio demos
| | |
| --- | --- |
| Rhythm name with audio demo | My comments |
| 16 beat | Nice syncopated 16-beat rhythm |
| bossa nova | Relaxed, summery and warm :-) |
| disco | Great Simmons-style disco tom-toms |
| march | Nice military snare |
| pops 1 | Nice and happy |
| pops 2 | Very nice retro style :-) |
| reggae | Superb reggae beat! |
| rock | Good rock 'n' roll |
| samba | Classic samba accompaniment |
| slow rock | Typical '60s style |
| swing | Fluid and jazzy |
| waltz | Nice |
And here's what possible to do using the four yellow hexagonal drum pads:
drum solos a series of rhythms improvised on the pads, switching the various sounds assigned to them.
Features at a glance
Year of release:
198_
Polyphony:
Presets:
20
Rhythms:
12
Keyboard:
4-octave mini-keys
Responds to velocity:
no
Sound generation method:
PCM
MIDI:
no
Sound expansion capabilities:
no
Effects:
no
Controls:
sliders
Outputs:
stereo RCA, phones
Display:
no
Casio MT-500 pictures (click on thumbnails to enlarge)
Casio MT-500 manual
Links