Philip Wolfe's Rock Keyboards - Hammond B-3 & Moog Synthesizers
Sample CD-ROM library in Roland S-770 and compatible format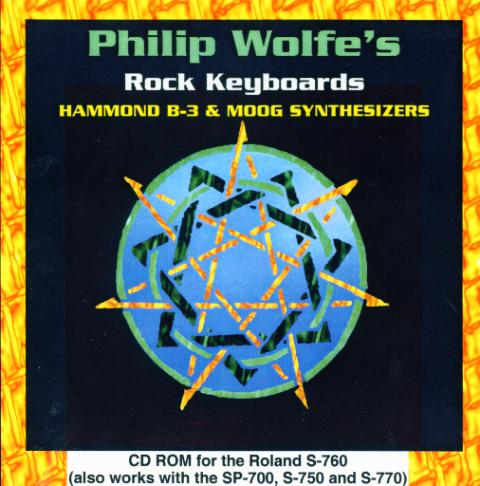 Philip Wolfe's Rock Keyboards - Hammond B-3 & Moog Synthesizers is a CD-ROM collection that includes samples from Philip's own instruments.

The lion's share of this CD is given to the Hammond B-3, with a slant typically toward rock - indeed, many of the samples contain slight distortion/pre-amp saturation - just like many hard-rock keyboardists used to record and play their organs.

The organ is recorded in many different settings, conveniently labeled according to the "drawbar number" employed. There are no velocity-switched slow to fast Leslie emulations, but there are a few patches where the slow to fast is sampled in the actual sound - and then it gets looped, continuously cycling through slow and fast. While not glamorous, this is a valid solution that allows you to simulate the Leslie speeding up.


The Moog samples come in different variety, but again with a nod to classic rock. Polysynth and polybrass, pads, analog strings, even a Taurus bass patch - and the best samples in the bunch, sample & hold modulated tones.

In order to use these CD-ROM you will need a SCSI CD-ROM drive connected to your S-series sampler or XV-5080. Keep in mind that certain sound data will need 32MB of memory, supported only by the S-760. The S-770 and 750 have less.
Greytsounds Philip Wolfe's Rock Keyboards audio demos
A Lexicon MPX-1 multi-effect processor was used to add reverb/ambience to the samples.

Greytsounds Philip Wolfe's Rock Keyboards specifications
| | |
| --- | --- |
| Year of release: | 1995 |
| Polyphony: | |
| Sound generation method: | |
| Preset memories | |
| MIDI: | |
| Sound expansion capabilities: | |
| Sequencer | |
| Arpeggiator | |
| Effects | |
Greytsounds Philip Wolfe's Rock Keyboards pictures (click on thumbnails to enlarge)
Greytsounds Philip Wolfe's Rock Keyboards manuals
I put together a .pdf of the CD leaflet:
Philip Wolfe's Rock Keyboards.pdf
Links
| | | |
| --- | --- | --- |
| SITE | Type of resource | DESCRIPTION |
| | | |
| | | |
Greytsounds Philip Wolfe's Rock Keyboards review with audio demo