RAP-1 Rapman
The world's 1st rap keyboard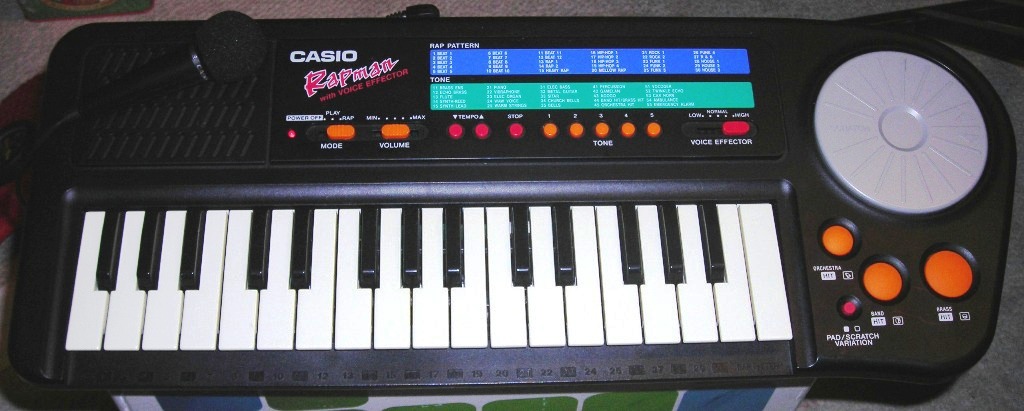 This is one little Casio keyboard that I remember fondly from the early '90s!! Rap was at the top of its popularity then, and this fun keyboard allowed anybody to become instant rappers :-)

This 32-key keyboard offers 25 preset tones, including piano, horns, guitar and sound effects; 30 Rap patterns, including rap, rock, house and more; a scratch disk that gives you control of up to four different scratch sounds by turning it with your hand, and three effect pads - three buttons on the console that give you one-touch access to a selection of exciting sound effects.

One of the best features of the Rapman is the Voice Effector function: this changes the pitch of the sound being input through the microphone. Yes, there's an extra-cool Casio EM-4131 mini-microphone included!

The on board speaker is powerful enough for home use, but there's an 1/8" output too, for when you need to kick it up a notch.



Casio Rapman audio demos
Tones
Rap Patterns
Stream all rap pattern demos below
Casio Rapman Voice Effector demo
Casio Rapman video demo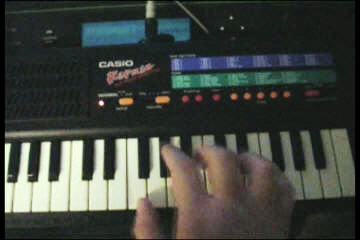 In Real Video format Casio_Rapman.rm

Casio Rapman specifications
| | |
| --- | --- |
| Year of release: | |
| Polyphony: | |
| Sound generation method: | |
| Preset memories | |
| MIDI: | |
| Sound expansion capabilities: | |
| Sequencer | |
| Arpeggiator | |
| Effects | |
Casio Rapman pictures (click on thumbnails to enlarge)
Casio Rapman manual
available at Casio New Zealand
Links
Casio RAP-1 Rapman review with audio demo