REX50
Digital Multi Effector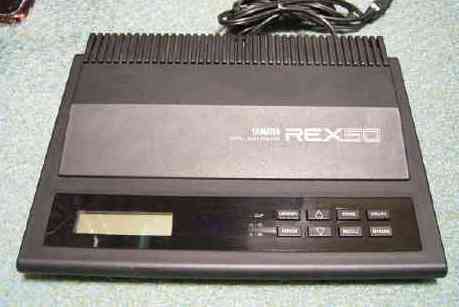 This is a cool, old funky unit from the late '80s. I think it's a bit underrated, because it offers quite a lot of different effects - basically the little brother of the SPX90 - it's very flexible, dead easy to program, and small & compact.
For those of you who remember the digital effects of the magic '80s, this is a machine that can offer them in spades. Even the digital distortions typical of the era are well represented. The delay/echoes in particular are very good on this machine, and the reverbs - while not sparkly and full of detail - have plenty of character. This multi effect is good for any instrument, from keys, to guitar, bass, and vox.
Yamaha REX50 audio demos in .mp3
I used a Roland JV-2080 (expanded) with its internal effects turned off. I fed the 2080's stereo outs directly into the REX50 ins. The dry sound is played first, followed by the processed version.
Yamaha REX50 pictures (click on thumbnails to enlarge)

Yamaha REX50 Features
compact and light;
dead easy to use;
offers MIDI control;
great delays and special effects
Features at a glance
Year of release:
1987/88
Display:
yes, LCD numeric only, red on black
Preset Effects:
30 in ROM, 60 RAM
Sound generation method:
PCM
MIDI:
in only
Sound expansion capabilities:
n/a
Outputs:
Two stereo ins, two stereo outs
Controls:
buttons only (classic digital era..)
Dimensions:
Weight:
Yamaha REX50 Manual
Available at www.yamaha.com
| | | |
| --- | --- | --- |
| SITE | Type of resource | DESCRIPTION |
| | | |