SN-U110-10 Rock Drums
sound expansion card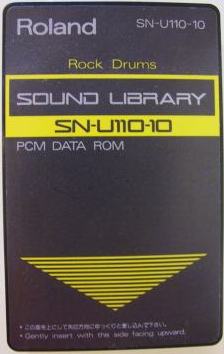 A very good selection of mainly rock, but also pop and electronic drum samples. There are the obligatory "Phil Collins" style gated snares and the mega-powerful '80s power toms, but also plenty of TR-808 sounds, Simmons electric drums, and some sampled oddities thrown in for good measure. Great card that expands the drum base of any synthesizer supporting the SN-U110-series of cards.
Roland SN-U110-10 Rock Drums audio demos
Stream all the examples below as an .m3u playlist
Individual listening: