Soundscan 09 - Old School Keyboards
Sample CD-ROM library in Akai, wav/aiff, and audio format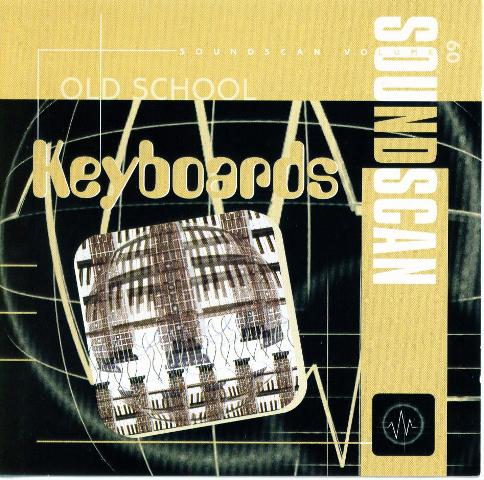 Number 9 in the Soundscan series, this CD-ROM set is devoted to classic electro-mechanical keyboards and a few digital classics as well.

The Akai version of Soundscan 9 consists of three partitions, offering a generous amount (with plenty of variations) of retro instruments, including electric pianos of the Rhodes, FM and Wurlitzer variety, the classic Yamaha CP-70 electro-mechanical grand piano, lots of Hohner Clavinet samples, big Hammond organs (more tailored to Rock genres), and even uncommon classics like the venerable original Korg CX-3 and many Farfisa combo-organ patches.

The quality of the recordings is very good, and in most cases the skillful programming masks the loop points in the samples. The patches unfortunately don't have controls routed to the modulation wheel (as it's common, in example, to speed up or slow down the Leslie in an organ emulation.


I like this collection. It offers original, always useful classic renditions of the keyboards we all love - at a small fraction of the price of the original, hard to find and hard to maintain instruments.

Check out the following demos of individual patches from Soundscan 09, Old School Keyboards.
Soundscan 09 - Old School Keyboards audio demos
All examples were played from Propellerhead Reason 3's NN-XT sampler, going through the RV7000 reverb (running programs matched to the nature of the samples) - then through the default Mastering Suite.

Sound name with audio demo
My comments
Partition A
01 AMB ROAD HI
Realistic Rhodes electric piano, with a bit of "bite" when pressing harder on the keys.
02 DRY ROAD 1 LO
Dry version, with less sustain
05 FENDER LO
Beautiful, dreamy, spacey Fender Rhodes electric piano, superb for ballads.
07 SUITCASE
Marvelously sampled Rhodes Suitcase model
13 FM EL.PIANO1
Beautiful Yamaha FM style, DX7 electric piano
16 FM EL.PIANO4
Pop variation of the above, very '80s Phil Collins.
22 WURLITZER 2
Okay Wurlitzer electric piano.
Partition B
01 CP70
Nice sampling of the classic Yamaha CP series
03 CLAVINET 2
Classic Hohner Clavinet, useful for many genres.
05 CLAVINET 4
Spiky Clavinet, early '80s
14 HONNER CLAV4
Classic Clavinet through envelope filter such as Mutron, wah etc.
15 BIGHAMM1 FST
A very nice Hammond organ with fast Leslie engaged.
16 BIGHAMM2 SLW
Slow Leslie Hammond, with upper drawbars pulled out - nice.
18 BIGHAMM4 SLW
Full rock Hammond, a la Deep Purple etc.
Partition C
02 B3 2
Nice Hammond B-3 organ, this is useful for Reggae.
06 CX3 1
The classic Korg portable organ from the late '70s.
12 FARFISA 3
Great - the psychedelic sound of the '60s.
Soundscan 09 - Old School Keyboards specifications
| | |
| --- | --- |
| Year of release: | |
| Polyphony: | n/a |
| Sound generation method: | sample CD |
| Preset memories | n/a |
| MIDI: | n/a |
| Sound expansion capabilities: | n/a |
| Sequencer | n/a |
| Arpeggiator | n/a |
| Effects | n/a |
Soundscan 09 - Old School Keyboards pictures (click on thumbnails to enlarge)

Soundscan 09 - Old School Keyboards manuals
Links
| | | |
| --- | --- | --- |
| SITE | Type of resource | DESCRIPTION |
| | Home Page | Sample CDs, Virtual instruments |
| | | |
Universal Sound Bank Soundscan 09 - Old School Keyboards sample CD review with audio demo