Soundscan 14 - Twisted Special FX
Sample CD-ROM library in Akai, wav/aiff, and audio format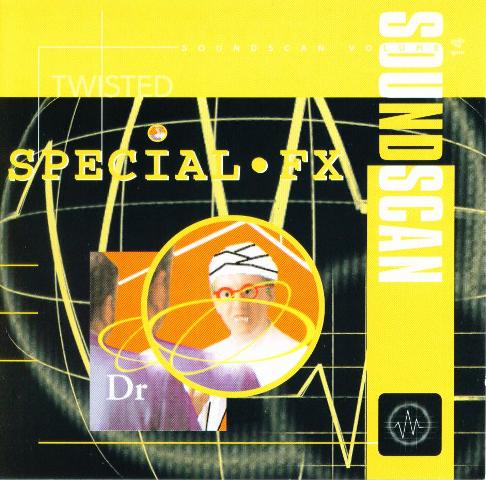 Number 14 in the Soundscan series, this CD-ROM set is composed of several samples of "twisted" special effects, many obtained from analog synthesizers. I tend to agree with the name, they are kind of twisted.

The offering is divided in sections grouped under general categories such as "Sub Waves", "Ambient", "Atmospherics", "Insectronic", "Electricity", "Mad Radio", "Hi Sense", "Analog", "Meta Sounds", "Hits" and "Short Noises".

I find the "Atmospherics" and "Meta Sounds" sections particularly interesting and useful, but there are some good sounds in all sections.

The sounds that use analog synths as starting points may have been heard before (the typical LFO filter sweeps and sci-fi fx), but if you don't have these in your sample collection yet, this one has them in spades.


It's almost obligatory to drawn these samples in reverb/delay, so, if your sampler has these effects on board, slap them on generously. If it doesn't, run it through an effects box, or make sure to add them in your audio editor - the ambience adds a lot to the base sounds.

Check out the following demos of individual patches from Soundscan 14, Twisted Special FX.
Soundscan 14 - Twisted Special FX audio demos
All examples were played from Propellerhead Reason 3's NN-XT sampler, going through the RV7000 reverb (running programs matched to the nature of the samples) - then through the default Mastering Suite.

Soundscan 14 - Twisted Special FX specifications
| | |
| --- | --- |
| Year of release: | |
| Polyphony: | n/a |
| Sound generation method: | sample CD |
| Preset memories | n/a |
| MIDI: | n/a |
| Sound expansion capabilities: | n/a |
| Sequencer | n/a |
| Arpeggiator | n/a |
| Effects | n/a |
Soundscan 14 - Twisted Special FX pictures (click on thumbnails to enlarge)

Soundscan 14 - Twisted Special FX manuals
Links
| | | |
| --- | --- | --- |
| SITE | Type of resource | DESCRIPTION |
| | Home Page | Sample CDs, Virtual instruments |
| | | |
Universal Sound Bank Soundscan 14 - Twisted Special FX sample CD review with audio demo