SR-JV80-13 Vocal Collection
Expansion board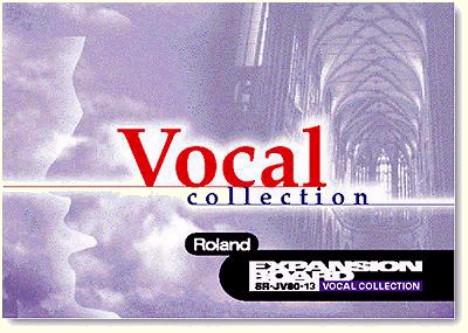 Number 13 in the Roland SR-JV80-series of expansion boards, "Vocal Collection" was produced in 1998 by Roland jointly with (former Roland sound designer) Eric Persing's company Spectrasonics.

Roland is a fantastic, well-established company, and Eric is an incredibly gifted sound designer: the strength of these two entities really shows in this board - there are dozens of extremely playable and inspirational patches, ranging from jazz scats, "doos" & "waps", realistic choirs, and fantastic New Age pads, perfect for composing soundtracks or ambient music.

I recognize several of the waveforms from Spectrasonics' "Vocal Planet" and perhaps "Symphony Of Voices". The recording quality is outstanding, super clean and with plenty of "air", perfect for a vocal expansion board.


One of the strong points of this board is the superb velocity-switch programming of certain patches - for example, the doo-wap ensembles - and some of the out worldly digital pads, spiced up by the excellent Roland filters and FX.

Besides the excellent jazz-based patches, there are plenty of R 'n' B sounds, moving adult and boys choirs, and even some Gregorian chant patches. Special pads and sound fx round up the board nicely.

Check out some audio examples from this board here below.
Roland SR-JV80-13 Vocal Collection audio demos in mp3
The three original MIDI demo songs on the accompanying floppy disk:
1 Newport Transfer (Scott Wilkie - Copyright 1998 Scott Wilkie Media (ASCAP)
2 Moment of Hope (Scott Tibbs - Copyright 1998 Roland Corporation)
3 Is it Time? (Scott Tibbs - Copyright 1998 Roland Corporation)

And here are some examples I played from the board:
| | |
| --- | --- |
| Patch name with audio demo | My comments |
| 001 Full Scat Sw | Incredible velocity switching programming makes this patch an absolute joy to play - Realistic scat samples that change according to how hard you play |
| 006 Jz.Dow Fall | Play staccato for standard accompaniment, hold the chords to get the "Dow" |
| 009 Happy Scats | Fun and realistic :-) |
| 011 Doo Bap Sw | Excellent velo-switch program - play soft, it's "doo" - play harder, it's "BAP!" :-) Makes for an exciting and dynamic program to play and enjoy. |
| 027 Real Choir | Beautiful, standard mixed choir - usable for many genres. |
| 032 Full Choir | Realistic choir |
| 037 GregorianChr | The typical solemn atmospheres of a Gregorian-style choir - nice! |
| 044 Boys Choir | Nice "white voices" type program |
| 050 Milky Choir | Marvelous, entrancing, hypnotic digital choir - perfect for composing soundtracks or ambient music |
| 052 Winter Choir | It's windy out there - better stay inside and sing :-) |
| 058 Siberian Pad | Superb as choir and as soft pad |
| 061 Moscow Ghost | Eerie... |
| 065 JD-800 Choir | Inspired by the classic Roland synthesizer JD-800, a digital pad with plenty of phasing action. |
| 069 Splintered | Nice voxy pad |
| 075 Step Choir | More nice programming, step-filtering |
| 081 HPF Synvox | Classic Fairlight syn vox - with High Pass Filter |
| 111 Jazz Gt Scat | A nice jazz hollow-body guitar and a scat program |
| 117 Vocal Menu | Beautiful vocal samples of all kinds, perfect to add realism to tracks. |
| 124 Mystify | Far-out patch - freaky |
| 125 Limbus | The poor souls... |
SR-JV80-13 Vocal Collection pictures (click on thumbnails to enlarge)

SR-JV80-13 Vocal Collection manual - click icons to enlarge.
at the Roland site www.rolandus.com
| | | |
| --- | --- | --- |
| SITE | Type of resource | DESCRIPTION |
| | | |
Roland SR-JV80-13 Vocal Collection review with audio demo