SU10
sampling unit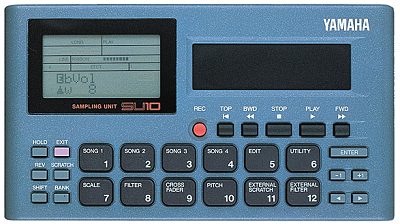 This is a killer little sampler! The SU10 is about the size of a VHS videocassette, and weighs less than a pound, making it ideal for musicians on the go, DJs, cramped studios, and naturally is perfect for live gigs.

This sampler features 12 sample pads, to which you can freely assign samples. There are actually four internal banks so you can store up to 48 samples on them, but they will be short and in low-quality. Best to stick with just a few, selected samples but at the highest sampling rate. This devices works extremely well with short, drum machine style samples, but you can also load up some longer samples and standard full loops.
Hands down, the best feature of the SU10 is the incredibly expressive ribbon controller! Ribbon controllers were widely used in analog synths from the '60s and '70s, but for some reason disappeared in the 1980s. In the 1990s, they made a comeback, thanks to instruments like the Kurzweil K2500, Yamaha EX5, and Roland JP-8000. Of course the '90s - 1995 in particular, with the coming of the original Clavia Nord Lead, the first Virtual Analog synth - also saw a rebirth of the love for analog synthesis, and a myriad of so called "VAs", short for Virtual Analogs, flooded the market.
The ribbon controller on the SU10 is a true chameleon: you can use it for scratching, for changing parameter values, and most of all to control the excellent filters on board. Add to this the ability to accept mic/line input, and battery operation (six AA batteries), and you have a powerful ministudio on the go.
I'm impressed with this little blue wonder. Shortcomings? I'd say the lack of a backlit display, but the LCD is clear, and it's easy enough to add one of those mini-lamps and velcro to its back.
Check out the video to see a few examples of what can be done with the Yamaha SU10.
Yamaha SU10 demo video
In this video I sampled a few loops and sounds from the Roland Dance, Techno and House SR-JV80-series cards.
This video shows how versatile this mini sampler is: in the first example the SU10 is used in classic "dj style": having assigned samples to individual pads, the song is put together simply by triggering the samples "in-time"; the second example shows the ribbon controller being used for scratching; the third examples features sample reverse, and the last example really shows off the ribbon and the excellent filters of this machine: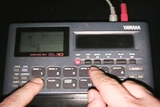 MPEG format
(20MB, broadband, dsl, cable)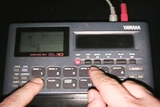 Real Audio format
(3MB, dial-up modem)
Yamaha SU10 features
From the manual: "The SU10 Stereo Digital Sampler is a compact, easy-to-use stereo phrase sampler offering high sound quality, a unique ribbon controller, excellent loop capability, and a host of other distinctive editing and performance features. The SU10 is ideal for up-and-coming DJs, "desktop musicians," and all others interested in experiencing the world of electronic digital sampling".
Sampling and playback features
Record up to 48 stereo samples within nonvolatile memory. Samples remain in memory even while power is off.
Excellent sound quality: Can record at a maximum sampling rate of 44.1kHz, the same rate used by audio CDs.
Reverse play reproduces samples in reverse.
Scale play sets up a single sample at 12 different pitches along the pad console.
Unique ribbon controller allows you to apply a dramatic filter or scratch effect to your samples, or to crossfade your samples with realtime sound from an external source.
Impressive editing features.

Select any one of five loop patterns for each sample. Select arbitrary loop start point and end point.
Move or copy sample to a different location; split one sample into two; trim off the leading and trailing part of the sample.
Select any one of three triggering modes for each sample.

Create up to four songs, each consisting of any arbitrary sequence of sample play.
Special "External" functions
Use your SU10 as an effects box for applying a realtime scratch or filter effect to feed-through line input.
MIDI support
Drive your SU10 from a remote sequencer, keyboard, or computer; or use your SU10 to drive a remote device.
Load selected samples to a synthesizer or other remote device using the MIDI sample dump standard.
Back up all SU10 data to an external storage device, then reload at any time.
Features at a glance
Year of release:
1995
Sound generation method:
sampling
Polyphony:
4 samples (monoaural)
Memory capacity:
384KB (Can record up to about 53 seconds of monoaural sound at Extra Long sampling grade.)
Presets:
n/a
Keyboard:
n/a
Responds to velocity:
n/a
Aftertouch
no
MIDI:
in, out
Sound expansion capabilities:
sampling
Arpeggiator:
no
Effects:
low-pass, high-pass, band-pass filters (all with resonance); crossfade; pitch
Controls:
pads, buttons, ribbon controller
Outputs:
line out, phones (1/8")
Weight:
0.4kg (0.88lb.)
Yamaha SU10 pictures (click to enlarge)
Yamaha SU10 Manual
Available at http://www.yamaha.com
Resources:
Review in "Keyboard magazine" Janfebmarch 198___
Links
| | | |
| --- | --- | --- |
| SITE | Type of resource | DESCRIPTION |
| | Home page | Home page for |
| | | |