Trilogy
analog synthesizer/string/organ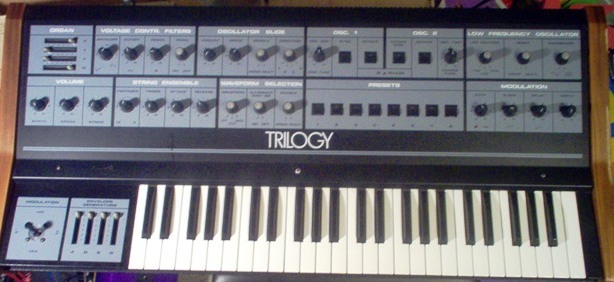 I like to call this the poor man's Oberheim OB-X :) , because it reminds of it, colors and size.
The sound is no joke, though. This is an impressive instrument, big, large and heavy. The name Trilogy of course (in the same vein were, for example, the Korg Trident, the ARP Omni 1/2, and the Moog Opus 3) comes from the fact that this instrument features three sections: Organ, Strings, and Synthesizer.
These "Multi-Instrument Keyboards", as they were called at the time, were very popular among keyboardists - because back in the early 80s, "proper synthesizers" like the Prophet-5, Oberheim OB-X or Jupiter-8 were much more expensive.
So, the Trilogy doesn't have all the modulation and bells and whistles of the other big of the era... but still manages to sound good, and that's the bottom line! :-)
The String section in particular sounds great.. very retro, and very similar to the classic ARP String Ensemble (Solina).
The Organ section is okay, but there are only four sliders, each one of them acting as a "horizontal drawbar". Four drawbars are not enough for Hammond sounds (not to mention, no percussion, chorus or Leslie emulation..), so the organ sounds you get are more in the Farfisa/Vox/Electric organ vein. Useful to have in the sonic toolbox, though.
The Synthesizer section is big, brassy, and typically 80s-sounding. In all, this is an impressive (not only visually - it's very large and heavy) synthesizer, capable of vintage sounds unavailable anywhere else.
Crumar Trilogy audio demos
Stream all audio examples below:
Preset name with audio demo
My comments
Presets (note: these are the presets in my current unit, changed by the previous owner - they are not the factory presets..)
preset 1
assignable preset
Preset 2
Nice, fat staccato synthesizer
Preset 3
Standard rising reso-pad. I added LFO frequency and vca modulation at the end.
Preset 4
Clavi-synth sound.
Preset 5
Trombone/Brass sound. Pure analog. Modulated by the joystick at the end.
Preset 6
Nice retro-sounding flute
Preset 7
Powerful analog synth-bass/polysynth, very '80s.
Preset 8
Evolving (slightly out of phase) double osc synth sound. Added mod at the end.
String Ensemble
String Ensemble section
This is a dream sound!!! Gorgeous, vintage super-analog string section sound, that only synth from the '70s/early '80s knew how to do! :-) Definitely holds its own compared to the Solina. Probably the Trilogy's main asset.
Organ
Organ 2'
Early Clavioline/Farfisa type sound
Organ 4'
'60s transistor organ
Organ 8'
Vox-type sound
Organ 16'
'70s home organ
Organ 16' + 2'
Vox Continental
Organ 16' + 4'
Vox Continental variation
Organ 16' + 8' + 4' + 2'
'60s lounge organ
Synthesizer
Synth 1 - AnaComp
Early poly synth sound
Synth 2 - Osc. One slight detune, '80s style
Typical 1980s synth sound
Synth 3 - Big Detune + lfo modulation
Full, analog sound
Synth 4 - Super Detune, techno style
Awesome detuned synth, very modern-sounding
Synth 5 - detuned 5th - Keith Emerson style
Typical ELP style
Synth 6 - Octave Synth
Utilizing the Octave Mod. feature, reminds of Fischerspooner's "Emerge" at the beginning, changing to a hypnotic synth at the end.
Synth 7 - Filter Sweeps
Classic, powerful, cutoff + resonance filter sweeps (note how powerful the Trilogy's filters are)
Solo Synth - Square Wave solo
Utilizing the Oscillator Glide function (a sort of portamento effect)
Pad 1 - Hi-Resonance + slow LFO modulation
Gorgeous, moving pad, with plenty of resonance added.
Pad 2 - Filtered Sawtooth, long envelope
Peaceful, dreaming analog sawtooth wave synthesizer pad.
Brass 1 - Jump Synth Brass
The ubiquitous sound..
Brass 2 - Slide Synth Brass
Reminds a bit of Paul Simon's "Graceland" album.
Brass 3 - Synth Brass
Gentler, muted synth brass.
Keyboard - Electric Piano with tremolo
Dreamy Rhodes.
Bass - Synth Bass
Techno bass, powerful.
Special FX - WW2 radio
Again showcasing the power of the Trilogy's filter section.
Special FX 2 - Birdies
Plenty of lfo modulation.
Reed - Clarinet
Honest clarinet reedy sound
String - Violin&Viola&Cello
Very expressive!!
Crumar Trilogy photos (click on arrows to move forward/back)
Crumar Trilogy manual

Trilogy manual in .pdf , courtesy of the Yahoo Crumar group http://launch.groups.yahoo.com/group/crumar/
Resources:
Review in "Keyboard magazine" Janfebmarch 198___
Crumar Trilogy features
Features at a glance
Year of release:
1981
Sound generation method:
analog, 2-DCO
Polyphony:
full poly (?)
Presets:
7 + 1 assignable
Keyboard:
49 note (4 octaves)
Responds to velocity:
no
Aftertouch
no
MIDI:
no
Sound expansion capabilities:
no
Arpeggiator:
no
Effects:
no
Controls:
knobs for synthesizer/strings control, four sliders for the organ section
Outputs:
three separate 1/4" (synthesizer, strings, organ). The synthesizer output also acts as main output combining the three sections (three volume knobs available for ease of mixing)
Weight:
The "Song made only with this instrument" trial: _________ The Trilogy behaves like a champ. Note in particular...
Replacing the Crumar Trilogy fuse
I successfully used Radio Shack part#270-1011 (pkg. of 4 fuses) 5-Amp Fast Acting Fuses - 250-Volt - 1 1/4 x 1/4" - 3AG or AGC Type.
Links
| | | |
| --- | --- | --- |
| SITE | Type of resource | DESCRIPTION |
| | Home page | Home page for |
| | | |