XL1
Sample CD set (2 audio CDs)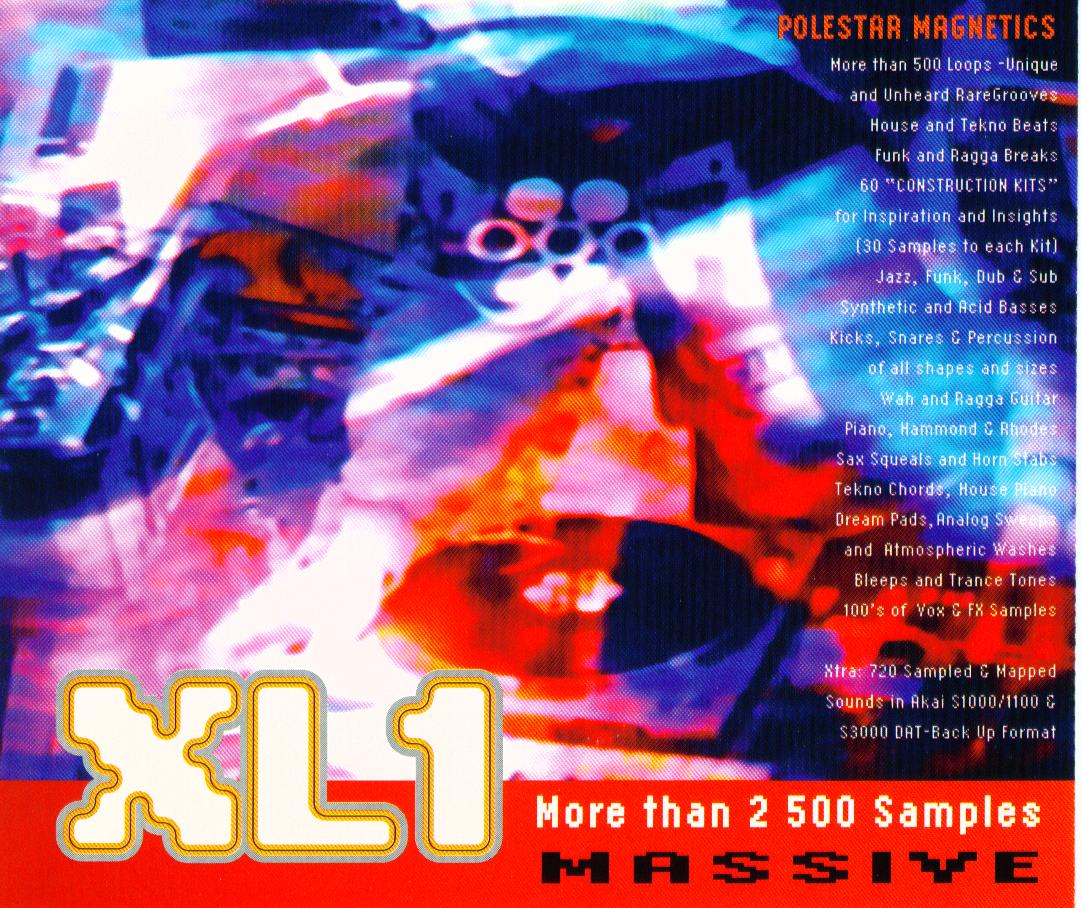 The sequel to the famous "X-Static Goldmine". This sample CD set is important because it was the first to present the now common "Construction Kit" feature. A construction kit is a track that contains all elements needed to create a song, from the drums to the bass, to the chords and embellishments. All of this is headed by a brief demo to give you an example of what you can do with the samples.
XL1 continues where the X-Static Goldmine left off, offering more samples, up to date loops, and samples that weren't included in the original CDs.
From the CD cover:
"XL1 is a new concept - a brave attempt to make it easier for you to judge a sample's character, groove & feel by presenting them in unique "CONSTRUCTION KITS" as well as "the traditional way". By giving you both these systems we believe you get a com[p]lete "Tool-Box" of Dance Samples plus freedom & flexibility to work the way that suits You the best."
Polestar Magnetics XL1 features
More than 500 loops, 60 Construction Kits, Jazz, Funk, Dub & Sub, Synthetic and Acid basses, Kicks, Snares & Percussion, Wah and ragga guitar, Piano, Hammond & Rhodes, Sax, Horn, Tekno chords, House pianos, dream pads, analog sweeps, atmospheric washes, bleeps and trance tones, 100's of vox & FX samples
EXTRA: 720 sampled & mapped sounds in Akai S1000/1100 & S3000 DAT-Back Up format.
DISC 1 - 60 Construction Kits, Drum & Percussion, DAT Back-Up section
DISC 2 - Hip Hop & Percussion Loops, Tekno & House Loops, Rolls & Breaks, Bass Synths & Techno Loops, Funky Stuff, Chords, Sweeps & Pads, Fx & Vox, DAT Back-Up Section 2
Polestar Magnetics XL1 audio examples in mp3:
Polestar Magnetics XL1 sample - A classic offering of Construction Kit + the samples used in it.
Valid sequel to the classic X-Static Goldmine.
Additional Pictures (click on thumbnail to enlarge)