Hip Hop (Z1)
Expansion card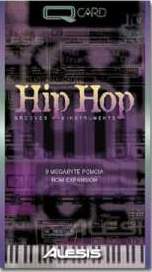 From the back cover of the box:
"Look no further for the coolest collection of sounds for Hip-Hop, R&B, Swing, Jungle, Acid Jazz, House and other urban music styles...they're all right here on the new Alesis Hip-Hop Grooves & Instruments QCard™. You'll find a monster library of new sounds that include hundreds of power-packed drum fills, funky break-downs, fluid instrumental/vocal loops and slammin' grooves as well as individual samples for kick drums, snares, toms, smooth synth waves, basses and vocals. There are eight megabytes of cutting-edge sounds to choose from, arranged in a format that's easy to access and use.
The Hip-Hop QCard also contains 128 new programs and 100 multitimbral mixes for your Alesis QS Series™ or QuadraSynth® synthesizers. These programs and mixes were carefully created to be great right out of the box, so all you have to do is turn on your synth, plug in the card...and start groovin'.
Alesis Hip Hop Q Card audio demos in mp3
Factory Demos:
1 - Kawa Kava - by Taiho Yamada
2 - Groovilicious Thunderbeat - by Taiho Yamada
Stream:
Stream all the examples below as an .m3u playlist
Individual Listening:
Alesis Hip Hop Q Card pictures (click on thumbnails to enlarge)

Alesis Hip Hop Q Card manual (click icons to enlarge)
| | | |
| --- | --- | --- |
| SITE | Type of resource | DESCRIPTION |
| | | |