Sanctuary (Z3)
Expansion card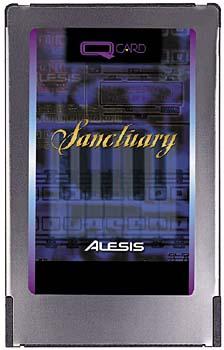 From the back cover of the box:
Designed for the creation and performance of spiritual music for churches, musicians and composers, the Alesis Sanctuary QCard offers a huge variety of instrument, choral and special effect sounds for use with Alesis QS and Quadrasynth Series synthesizers.
The Sanctuary QCard was specifically created to inspire anyone who writes or performs sacred music. You'll find a massive eight megabytes of 16-bit, 48kHz linear, master-quality samples that are used with state-of-the-art synthesizer voicing. The samples include pipe, tonewheel and combo organs, crystal electric pianos, handbells, chimes, warm synthesizer pads, orchestral instruments, several different vocal and choral ensembles, special effects and much more. These sounds are the building blocks for the programs and multitimbral mixes that are contained on this Sanctuary QCard.
This QCard offers a self-referencing design, making it 100% plug-and-play. In other words, all you have to do is plug the card into your Alesis synthesizer's innovative PCMCIA card slot, and all the sounds, programs and mixes can be accessed immediately.
The Alesis Sanctuary QCard contains 128 Programs and 100 multitimbral Mixes. Also included are two floppy disks for Macintosh™ and Windows computers™, each containing 256 additional Programs, 200 Mixes and the Alesis FreeLoader™ application."
Sanctuary Q Card audio demos in mp3
Factory Demos:
1 - O Holy Night - composed by Adolphe Adam - Arranged and performed by David Bryce
2 - Amen Selections - composed and arranged by John P. Lotze. Additional arrangement by Randy Lee
Stream:
Stream all the examples below as an .m3u playlist
Individual Listening:
Alesis Sanctuary Q Card pictures (click on thumbnails to enlarge)
Alesis Sanctuary Q Card manual - click icons to enlarge.
| | | |
| --- | --- | --- |
| SITE | Type of resource | DESCRIPTION |
| | | |