Vintage Keyboards Q Card (Z4)
Expansion card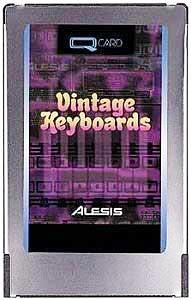 From the back cover of the box:
"The Alesis Vintage Keyboards QCard™ offers a collection of super-realistic sounds from the greatest keyboard instruments from the '60s, '70s and '80s. This library of classic keyboards begins with a wide selection of authentic electric pianos. You'll get everything from warm, natural suitcases to biting rock combos and smooth, rich electric grands. Of course, we also added your favorite rock organ sounds, and included important details like key click, individual drawbars, rotating speaker effects, and even drawbar control from the front panel sliders. Dozens of clavs, harpsichords, and combo organs are included in addition to a whole bank of mellow tape-driven string and choir sounds for your next psychedelic creation or progressive rock epic. You'll even find some early digital samplers and shimmering FM synths for that '80s pop sound.
The Vintage Keyboards QCard's superior sonic quality comes from 16-bit, 48kHz linear, master-quality samples and state-of-the-art synthesizer voicing. Its massive eight megabytes of sound ROM contain hundreds of carefully-recorded samples that are completely compatible with all Alesis QuadraSynth® and QS Series™ synthesizers. Also included are two floppy disks for Macintosh™ and Windows computers™, each containing 256 additional Programs, 200 Mixes and the Alesis FreeLoader™ application."
Alesis Vintage Keyboards Q Card audio demos in mp3
Factory Demo:
Neuro Boogie - by Erik Norlander
Stream:
Stream all the examples below as an .m3u playlist
Individual Listening:
| | |
| --- | --- |
| Patch name with audio demo | My comments |
| | Classic Rhodes Suitcase 88, with contradistinctive tremolo. |
| | Cool sounding Rhodes Stage 73 electric piano |
| | Very realistic and expressive. |
| | Great sound! This obviously stands for "Omni", as in, the ARP Omni multikeyboard. |
| | Nice approximation of the ARP Solina, but the sound isn't quite there. |
| | And this is a nice emulation of the ARP Quartet. |
| | Mellotron galore, a la King Crimson (noted progressive band). |
| | Sweet flanging action, courtesy of the excellent Alesis processor. |
| | Classic Rhodes Piano Bass, as used by Ray Manzarek in the Doors. |
| | This obviously is an R.M.I. piano (Rocky Mountain Instruments). Nice and mellow. |
| | Elka piano! Nice. |
| | Great version of the Yamaha CP-80 classic electric grand piano, as used by Peter Gabriel in Genesis. |
| | Classic, funky Hohner Clavinet. |
| | Interesting and vintage sounding clavichord. |
| | Outstanding Hammond sound, with excellent Leslie effect! Inspired by the sound of Booker T. & the MGs "Green Onions", a classic song. |
| | Incredibly beautiful Hammond sound!!! This sounds really nice, especially the Leslie acceleration, and is inspired by the classic 70s organ by Korg, the "CX3" (that was recently remanufactured with a more modern slant). |
| | Classic Keith Emerson Hammond C-3 sound - pardon my sloppy playing... |
| | Nice combo organ as used in Iron Butterfly's classic "In a gadda da vida". |
| | Spectacular Mellotron string patch! |
| | Probably a Novatron choir? |
| | Another great Mellotron instrument: the classic choir, used in innumerable Progressive tracks. |
| | And finally the Mellotron flutes, used by the Beatles in their classic "Strawberry Fields Forever". |
Alesis Vintage Keyboards Q Card pictures (click on thumbnails to enlarge)
Alesis Vintage Keyboards Q Card manual - click icons to enlarge.
| | | |
| --- | --- | --- |
| SITE | Type of resource | DESCRIPTION |
| | | |