Vintage Synthesizers and Classic Beatboxes Q Card (Z5)
Expansion card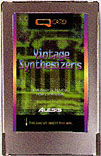 From the back cover of the box:
"The 8 Megabyte VIntage Synthesizers and Classic Beatboxes QCard™ contains the groovy synth soundsand lo-fi drum hits from the dawn of the age of electronic music. All of your favorite analog synthesizers from the late '60s through the mid '80s are represented in their best form. You can expect the classic fat, warm and rich waveforms that VCO-based synths provided in their heyday. You'll also get long resonant filter sweeps as well as cool bandpass and highpass filtered waves. Additionally, you'll get a great collection of your all-time favorite drum machines as well as examples of rare machines that let you stand out from the crowd. Whether you're performing rock songs, composing period-piece film scores or adding smooth sounds to hip hop, techno or R&B tunes, this card is the real thing for vintage synths and electronic drums.
This QCard's superior sonic quality comes from 16-bit, 48kHz linear, master-quality samples and state-of-the-art synthesizer voicing. Its massive eight megabytes of sound ROM contain hundreds of carefully-recorded samples that are completely compatible with all Alesis QuadraSynth® and QS Series™ synthesizers.
The Vintage Synthesizers and Classic Beatboxes QCard contains 128 Programs and 100 multitimbral Mixes. Also included are two floppy disks for Macintosh™ and Windows computers™, each containing 256 additional Programs, 200 Mixes and the Alesis FreeLoader™ application."
Alesis Vintage Synthesizers and Classic Beatboxes Q Card audio demos in mp3
Factory Demos:
Stream:
Stream all the examples below as an .m3u playlist
Individual Listening:
| | |
| --- | --- |
| Patch name with audio demo | My comments |
| | Beautiful, delightfully full and analog-sounding reso sweep synth. |
| | Perfect for scoring the sequel to Blade Runner! |
| | Inspired by great Ambient/New Age musician Tomita. |
| | Definitely squishy |
| | Fantastic and inspired delayed synth, with sampled filter resonance. |
| | and plenty of it. |
| | Great analog pad |
| | Very '80s sounding synth. |
| | Classic patch found in many synths. |
| | Probably means (Roland) Juno synth pad. |
| | Different, strange. |
| | Lovely and icy synth pad |
| | Marvellous and powerful. |
| | Classic early string machine a la Solina. |
| | Cool Oberheim solo synth. |
| | Progressive lead. |
| | Very aggressive and cool FM sound |
| | Typical oscillator sync |
| | Goes low. |
| | Alesis very own HR-16 drum machine. |
| | Presumably sampled from Korg's Minipops 120 and 95 drum machines. Very cool, retro sounds. |
| | And this is the Korg Rhythm 55b |
| | And the Korg KPR-77. |
| | Obtained from the Yamaha GX?? |
| | Nice, sparkly pad |
| | Ominous sound fx. |
Alesis Vintage Synthesizers and Classic Beatboxes Q Card pictures (click on thumbnails to enlarge)
Alesis Vintage Synthesizers and Classic Beatboxes Q Card manual - click icons to enlarge.
| | | |
| --- | --- | --- |
| SITE | Type of resource | DESCRIPTION |
| | | |