Latin (Z7)
Expansion card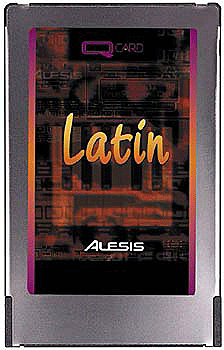 The Alesis Latin card is a cool sounding card that brings new life to the QS line of synthesizers, and adds lots of new waveforms and patches that are useful, besides Latin music, for pop and rock, thanks to the variety of brass, bass, piano and keyboard sounds found in it.
The sound "families" contained in this board include:
Brass (Solo and Section), Winds, Bass, Piano, Guitar, Strings, Percussion and Percussion Kits, Vibraphones, Chromatic Percussion and Groove. The Mixes contain split/layered setups of the single sounds, as well as Multitimbral arrangements .
From the back cover of the box:
"The Alesis Latin QCard™ offers you a whole world of vibrant sounds and rhythms, ranging from traditional instruments to contemporary textures. Horns, guitars, percussion, strings, keyboards, accordions, vibes - you'll find them all here, presented with amazing authenticity, clarity, and impact.
The QCard's 128 programs and 100 mixes encompass a huge stylistic and cultural spectrum, including Tex-Mex, Tejano, Cumbias, Salsa, Merengue, Brazilian Samba, Afro-Caribbean, Quebraditas and classic Mariachi. All programs employ 16-bit, 48kHz uncompressed digital samples for exceptional clarity, dynamics and detail. This 8 megabyte QCARD offers 100% plug-and-play convenience for use with any expandable Alesis synthesizer.
Alesis Latin Q Card audio demos in mp3
Factory Demo:
Salsa Siete - by Boris Wiedenfeld. Additional arrangement by Randy Lee
Stream:
Stream all the examples below as an .m3u playlist
Individual Listening:
| | |
| --- | --- |
| Patch name with audio demo | My comments |
| 00 SalsaBrass | An excellent brass sample |
| 02 Mtn Pipes | Expressive Andes pipes |
| 03 Ole! | Incredible patch that intelligently combines a flamenco guitar with the sound of Spanish castanets and hand claps |
| 05 SalsaPiano | Superb rendition of the classic sparkly, cutting Salsa piano. |
| 09 PanamaRed | A cool, laidback loop and nice marimba. |
| 109 Loops&Prc2 | Great assortment of Latin American loops |
| 111 Cha-Cha | Standard cha-cha setup |
| 112 Merenge | Outstanding, realistic Merengue setup, with nice loops and breathy sax |
| 123 Dub Samba | Modern version of two unique musical genres. |
| 16 Samba&Brs | Excellent loops and brass patch. |
| 23 MariachiTp | Charming Mariachi trumpet. |
| 33 Latin Sax | Expressive saxophone |
| 41 Nylon1&Efx | Beautiful, sorrowful and super-expressive acoustic guitar, with the added bonus of finger taps and rolls! |
| 75 LobosAccrd | Lovely, melancholic and realistic accordion! |
Alesis Latin Q Card pictures (click on thumbnails to enlarge)
Alesis Latin Q Card manual - click icons to enlarge.
| | | |
| --- | --- | --- |
| SITE | Type of resource | DESCRIPTION |
| | | |