Alpha Dance II
Sample CD-ROM library in audio & Akai format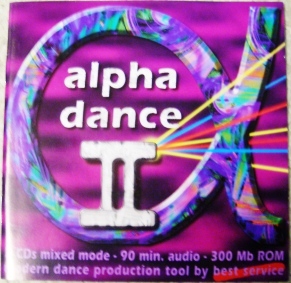 Alpha Dance II is the sequel to Best Service's Alpha Dance, one of the classic techno-dance CDs of the early-mid 1990s.

Alpha Dance II comes in two CDs - one that contains the audio format, and the other one containing the Akai CD-ROM portion of this collection. There is a generous 300MB of samples, all geared for dance production.

This collection was produced in Berlin in 1995, and naturally the style best suited to it is mid-90s techno-house. All the elements needed in a dance production are present, including liquid house organs, superb sequencer lines, analog-sounding and evolving pads, several different types of synth FX, bleeps, zaps, sub bass, vocals, acoustic and electronic percussion loops, lead synths, basses, vocoders, and more!


The nice thing about this CDs is that the samples were all recorded very dry and clean; that gives the users the ability to apply their own effects and production tricks.

Check out the following demos of individual patches from Alpha Dance II:
Best Service Alpha Dance II review with audio demo
Best Service Alpha Dance II audio demos
Alpha Dance II - intro + demosong The original factory demo song. This song will give you an idea of how much you can do with just a sampler and a well-produced sample CD like this.
And here below I'm adding some examples of the single sounds contained in the Akai CD-ROM. All examples were played from Propellerhead Reason 3's NN-XT sampler, going through the RV7000 reverb (running programs matched to the nature of the samples) - going through the default Mastering Suite.

Sound name with mp3 demo
My comments
Partition A
ACID SEQ.1
Classic analog resonant sequencer synth - velocity assigned to filter cutoff.
CLICKY ORGAN
Quintessential 1990s House organ
GROOVY ORGAN
Very nice type of electric organ suitable for many genres.
PIANO 2
The classic Korg M1-style House piano.
QUINT SEQ.
Succulent and analog synthesizer.
SHORTY SEQ.
Beautiful analog style sequencer synth.
Partition B
BELLY
Ravishing analog pad.
RISING......
Fantastic resonating pad.
Partition C
BEAUTY......
Yes, this is a beauty!!! The classic "puffy cloud" synth pad of the '80s.
CLAVI.....
I'm not sure why they call it "Clavi", but this is a classy syn-pad.
SYNTHFX 1-24
Lots of pure-analog synth effects. Always fun and useful to have.
Partition D
CLEAR VOICES
Nice percussive synth vox.
CRACK BASS
Classic analog bass.
FAME BASS
DX style bass.
GRUFF BASS
Different and interesting.
SAX 1
Not bad for a dance collection!
Partition E
MEDUSA LEAD
Dazzling lead, very popular in the mid-90s... very 808-State.
PULSA LEAD
Quintessential Euro lead.
RAVE BEEP 1
Typical early 90s synth.
SCRAPER
Detuned digital synth.
Partition F
AC.LOOP9 130
Emphatically equalized to sit in the mix on top of a heavier loop.
BREAKER 133
Classic breakbeat loop
MISC.LP.130
Miscellaneous Latin percussion loop
PULSENOISE
Wicked lead
RAVE BEEP11
Another classic techno lead.
Best Service Alpha Dance II specifications
| | |
| --- | --- |
| Year of release: | 1995 |
| Polyphony: | n/a |
| Sound generation method: | sample CD |
| Preset memories | n/a |
| MIDI: | n/a |
| Sound expansion capabilities: | n/a |
| Sequencer | n/a |
| Arpeggiator | n/a |
| Effects | n/a |
Best Service Alpha Dance II pictures (click on thumbnails to enlarge)
Best Service Alpha Dance II manuals
Links
| | | |
| --- | --- | --- |
| SITE | Type of resource | DESCRIPTION |
| www.bestservice.de | Home Page | Sample CDs, Virtual instruments |
| | | |