Drumscapes Vol 1
Sample CD-ROM library in Roland S-770 and compatible format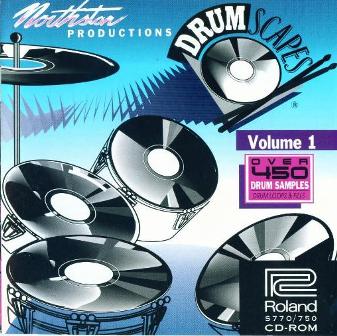 Drumscapes Volume 1 is a collection of drum samples, including single hits and full grooves, formatted on CD-ROM for the Roland S-770 and compatible samplers and sample players.

From the CD-ROM's booklet: "Drumscapes are direct to digital, live recordings of fully produced studio drum tracks. In addition, each song track includes every individual drum and cymbal hit for digital sampling."

The recording quality is extremely good: the sounds are very punchy, full-bodied, and the drum patterns are tight and perfectly looped. The single hits also are recorded very well, so it's easy to create your own drum kits, picking and choosing from the different volumes.

The vibe here is for the most part on the acoustic side of rock/pop, with the occasional venture into hip-hop or Motown - These samples are really good and if you play any of the styles listed here below, you will not be disappointed.


The styles included are:

Rhythm & Blues
Hip Hop/Rap
Adult Contemporary/Light Jazz Ballad
Medium Rock
Fast Heavy Rock
Power Ballad
Fast Shuffle
Slow Shuffle
Pop/Country Ballad
Fast Techno Rock
Medium Techno Rock
Uptempo Funk
Slow Motown

and as a bonus there's also a full set of percussion samples.

In order to use these CD-ROM you will need a SCSI CD-ROM drive connected to your S-series sampler or XV-5080. Keep in mind that certain sound data will need 32MB of memory, supported only by the S-760. The S-770 and 750 have less.
Northstar Productions Drumscapes Vol 1 audio demos
A Lexicon MPX-1 multi-effect processor was used to add reverb/ambience to the samples.

Drumscapes Vol 1 specifications
| | |
| --- | --- |
| Year of release: | 1992 |
| Polyphony: | |
| Sound generation method: | |
| Preset memories | |
| MIDI: | |
| Sound expansion capabilities: | |
| Sequencer | |
| Arpeggiator | |
| Effects | |
Drumscapes Vol 1 pictures (click on thumbnails to enlarge)

Drumscapes Vol 1 manuals
I put together a .pdf of the CD leaflet:
Links
| | | |
| --- | --- | --- |
| SITE | Type of resource | DESCRIPTION |
| | | |
| | | |
Northstar Productions Drumscapes Vol 1 review with audio demo